New Albany HVAC Company Employs NATE-Certified Techs to Get Repairs Done Right
Filed under: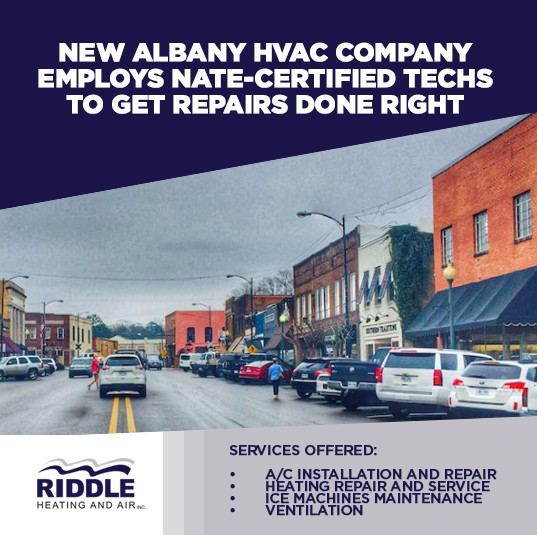 HVAC Pro in New Albany Dispatches Nate-Certified Techs for Repair Works
Riddle Heating and Air Conditioning, Inc., a local HVAC/R contractor in Mississippi, is committed to providing their clients with professional and dependable air conditioning installation in New Albany, MS. They take pride in employing knowledgeable, expertly-trained and fully-equipped NATE-certified technicians to serve residential and commercial customers. The company understands the importance of having a properly functioning air conditioning system in every home and business. That is why they always make themselves available and ready to take care of any cooling needs in the New Albany area. With years of experience in the HVAC industry, they have become the leading and trusted comfort experts in Mississippi.
Benefits of Hiring a NATE-certified HVAC Contractor
 Choosing the right HVAC contractor for quality air conditioning in New Albany, MS is as important as finding the best A/C for your space. Installing and repairing your air conditioning system requires a skilled set of specialists to prevent costly errors in the future. North American Technician Excellence (NATE) is one of America's largest non-profit organizations that certifies technicians with knowledge-based tests and applications in the heating, ventilation, air conditioning, and refrigeration (HVAC/R) industry. Here are the benefits of working with NATE-certified technicians: NATE certified techs have undergone extensive training to deliver exceptional air conditioning services. They strictly adhere to the industry's standard quality assurance and procedures. So, you can have peace of mind knowing that the experts are at work. If you need a new air conditioning installation in your New Albany, MS home, they can accurately install it in no time. They will conduct a thorough analysis and professional load calculation to get the right unit for your residential or commercial space. They are highly knowledgeable and experienced technicians who can handle all kinds of A/C repair in New Albany, MS. No matter how big or complex the issues, they can quickly fix it. They make sure your unit is serviced right, giving you a worry-free comfort. You can count on them for a high-quality air conditioning repair service.
First-Class Comfort at Lower Costs
With their skills, expertise, and experience, you can be sure to get superior quality and comfort. Their professional installation and service provide substantial savings on energy costs. They provide assurance of a well-completed job so you can enjoy big savings on repairs and the resulting bill.

 
ABOUT RIDDLE HEATING & AIR CONDITIONING INC. Riddle Heating and Air Conditioning, Inc. is a family-owned and operated HVAC/R company based in New Albany, MS. Their excellent workmanship and strong customer relationship are what sets them apart. They offer complete heating, cooling, ventilation, and refrigeration services to both residential and commercial clients. The company is NATE-certified and accredited by the Better Business Bureau (BBB) with an A+ rating.